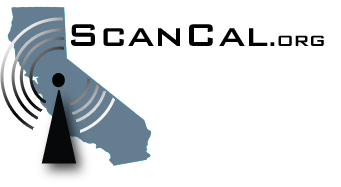 Current Major Incident:
No Major Incident
Pri1 - TGU Local
Pri2 - SHU County
Pri3 - SHU Local
Pri4 - National Flight Follow
Pri5 -

Normal Fire Season Programming:
(additional off-season frequencies Nov through May)
CALFIRE
TGU Local
SHU Local
Tacs 1, 3, 4, 11, 12
Commands 1, 2, 7, 9
Air Ground
Air Tactics 4, 5, 6, 21, 22, 23
USFS
LNF Forest
MNF Forest
SHF Forest
SHF Southfork District
Various ground tactics
Air Ground
Air Tactics 1, 2, 3
Air Guard
Air Flight Following (jumpers)
Other
Red Bluff City Net
Red Bluff City Tac 1
Red Bluff City Tac 2
Tanker Base 123.975
CESRS (travel net)
CHP Air Net
Calcord
Various Victor Nets (AM air)
Off Season Frequencies (Nov-May)
Red Bluff Police
Tehama Sheriff
CHP - Redding
Caltrans - I5 north valley
PGE (during storms)
UPRR Valley Sub
Windows Users
WinAMP
iTunes
RealAudio Player 10
Macintosh Users
iTunes
---
Frequently Asked Questions
What's the difference between server 1 and 2?
There is no difference in what you hear. Server 2 can carry 60 listeners and server 1 can carry 1000 listeners. They both feed the same stream.
What do I need to hear this?
A 56k modem or higher connection is typically needed to listen to the stream. I have had Verizon aircard users listening just fine while on the road. Any kind of computer capable of listening to streaming mp3 audio over the Internet. Compatible software includes iTunes, WinAMP, and Real Audio. It is Windows and Macintosh compatible. iPhones can monitor natively in Safari (multitask compatible), and Blackberry and Android phones over any cell service.
Why can't I hear anything!?
Make sure speakers are plugged in. Make sure the time counter in your media player is ticking forward, ensuring you're definitely connected to the stream. If you ARE connected, and you aren't hearing anything, then the problem is probably on my end and the scanner got turned down, Windows crashed, my DSL is acting up, or there simply isn't any radio traffic in rural Northern California (6 agencies can be quiet for 5-10 minutes at a time up here!) I usually check the stream a couple times a day, and check the equipment in the morning before leaving for work. Click the Server Status link found at the top of the page to ensure the server is up. If it's down - try again later in the day.
What equipment are you using?
I currently use a Pro-2066 attached to an external antenna. The antenna has a little elevation over the valley floor. Audio is inputted into a simple XP Pro box with a Shoutcast server running.
That's a lot of frequencies! Is it busy?
This is Red Bluff, California. It can take 20 frequencies here to equal the same amount of radio traffic as one dispatch channel for San Francisco PD. And it's STILL quiet at times! When it's normally scanning, with a little listening you should be able to tell who is who. A trick with fire traffic is listen to the unit numbers and dispatch names.
What if there's a major incident?
Normal scanning stops and I will only monitor the frequencies related to the incident. Also, if it is real quiet in NorCal, I may rebroadcast another stream in California of a major incident if they need bandwidth help. Historically this has included San Diego fires, the Summit fire in CZU/SCU, and the South Lake Tahoe fire. The Server Status will explain what I am generally scanning, as well as details on the NorCalFire yahoogroup.
Where's the law?
Because I'm a fire radio nut, during fire season I rarely monitor law enforcement. You won't find a law enforcement frequency plugged in during fire season unless it's directly tied to a major incident. During the winter I have law enforcement frequencies and various other freqs such as Fish and Game, Parks and Rec, and Caltrans.
Where's Butte County?
Butte County is supported by Tom, located in the heart of Butte County at thenet411.net My scanner can only listen to the northern Butte County repeaters. When they switch to south county, all I get is multipath noise or static which is annoying to the online listeners. This allows me to focus on other agencies and allows Tom to focus on Butte County.
Did you know you can do 2 scanners with stereo streaming?
Yes, however that takes more bandwidth than I am willing to give up, and requires a second scanner to be available. During major incidents I may tune in a second scanner, switch the stream to stereo and seperate left and right. However that would be rare.
Why do a lot of transmissions pause every 2 seconds?
I have some channels on priority (checks the channel every 2 seconds for transmissions). TGU is always on priority 1 since it is my local Unit, SHU is typically #2 and I may put the common air attack freq as Pri-3. However during a major incident, priorities are programmed according to the incident.
Why 60 users? Any more?
60 is more than enough for day-to-day scanning enthusiasts, and during major incidents I'll average around 30. Very rarely have I peaked to 60 and by then, I usually have another shoutcast server helping me out with bandwidth and taking some of the load. If I get donations to help pay for my bandwidth and hosting, the number of streaming users will go up also.